Disney's Animal Kingdom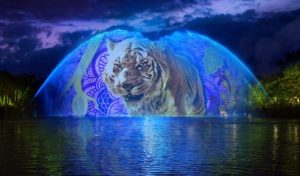 "The Jungle Book" roars to life with live music and performance, dazzling special effects and production numbers… as dozens of colorful performers take to the water and surround the audience in song and visual artistry.
This is the first show of its kind to showcase the culture of India on a grand scale with new choreography by Ulka featuring such forms as Bharatanatyam, Kathak, Chhau, Bhangra, Classical Folk, Dandia, Indo-jazz and Bollywood. A version of the show was also presented at the White House Kids' State Dinner held by Michelle Obama in 2016.